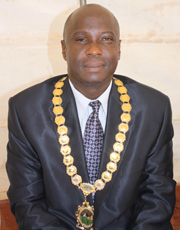 Cllr. Serite Emmanuel Sekgoloane
015 5057 191
(Mayor)
WHAT'S HAPPENING IN BLOUBERG


Electricity for Makgato and De Vreede Extensions

In terms of the South African Local Government Turn Around Strategy all households are to be connected to the national grid by 2014. Blouberg Municipality has in less than a decade met that deadline and have since shifted focus to electrification of extensions. This milestone was achieved through collaboration with the Department of Minerals and Energy (DME); Limpopo Provincial Government Capricorn District Municipality and ESKOM. Read More...

Selaelo Abram Seakamela ii Installed as Chief of Baakamela Ba Seakamela People

Magnitudes of people converged at Seakamela Traditional Authority at Marobjane village to witness the enthronement of Selaelo Abram Seakamela II as new Chief of Baakamela ba Ga Seakamela clan. Kgoshi Seakamela II succeeds his father the late Kgoshi Seakamela who passed on earlier this year due to illness Read More...

Eteya Award Gives Makgabeng Lodge a New Lease on Life

After being named provincial winner of ETEYA - Emerging Tourism Entrepreneur of the Year, Makgabeng Farm Lodge has been at the helm of success. The lodge is situated at Werden Farm less than 10 kilometres from Senwabarwana town and approximately 91 kilometres from the city of Polokwane. The facility only opened its doors two years ago and has been growing in leaps and bounds. International and local guests have been flocking in to experience the luxurious unique farm style hospitality the facility offers. Read More...

High Tech Calculators for Blouberg Schools

In a bid to encourage learners to take interest in Mathematics and Physical Science subjects, Blouberg Municipality donated calculators to local schools. On the 18th of August 2013, the Mayor of Blouberg Municipality, Cllr Serite Sekgoloane handed over scientific calculators to Makangwane Secondary School at Non- Parella Village in Ward Four (4). Before the intervention, learners at the school had been using ordinary calculators with some having no means to do calculations for Mathematics and other subjects that require calculations which was a process which learners described as tedious. Read More...