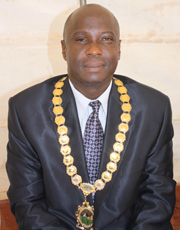 Cllr. Serite Emmanuel Sekgoloane
015 5057 191
(Mayor)
WHAT'S HAPPENING IN BLOUBERG


Poverty alleviation

Two poverty alleviation projects from Inveraan received shots in the arm in the form working equipment from Blouberg Municipality as a way of encouraging Read More...

Nedbank - bringing the corporate touch to the people

The less fortunate in Blouberg have something to warm them up this winter, thanks to Nedbank. One of Corporate World's finest also known for their football Read More...

People driven budget 2013/2014

President Jacob Zuma, in his State of the Nation Address 2013, said: "Leaders in every avenue should be ready to rise above sectional interests and with Read More...